PAGER Final review meeting
The final review meeting of the H2020 project PAGER has been organized at GFZ, Potsdam on Friday, July 7th 2023. PAGER consortium gathered and showcased the outcomes of the project in front of the stakeholders and external reviewers. The stakeholders and reviewers deemed the project a success story where all the promised targets have been met.
The Earth's magnetic field traps charged particles which are transported longitudinally around Earth, generating a near‑circular current, known as the ring current. While the ring current has been measured on the ground and space for many decades, the enhancement of the ring current during geomagnetic storms is still not well understood, due to many processes contributing to its dynamics on different time scales. Here, we show that existing ring current models systematically overestimate electron flux observations of 10–50 keV on the nightside during storm onset. By analyzing electron drift trajectories, we show that this systematic overestimation of flux can be explained through a missing loss process which operates in the pre‑midnight sector. Quantifying this loss reveals that the theoretical upper limit of loss has to be reached over a broad region of space in order to reproduce the observations. This missing loss may be attributed to inaccuracies in the parameterization of the loss due to chorus wave interactions, combined with the scattering by electrostatic electron cyclotron harmonic waves which is currently not included in ring current models.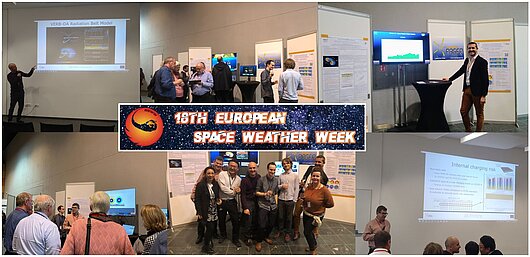 European Space Weather Week - success!
The PAGER team showcased their successful results so far at the 2022 European Space Weather Week in Zagreb, Croatia. The topical discussion meeting and FAIR held on Wednesday 26th October gave us the chance to present our results as well as reveal what lies ahead in the future of space weather forecasting predictions. Here are some pics of our team in action!

PAGER PI Prof. Mike Liemohn gives a talk about using metrics in space weather modelling.
J15.1 - Using Several Metrics Will Enhance the Information from Your Data–Model Comparison: Guidelines for the Space Weather Community
Thursday 27th January, 2022 1:30pm CST
Read the full abstract HERE
Past Event: European Space Weather Week
Conference home page: http://esww17.iopconfs.org/Home
25 - 29 October, 2021
Register for online participation NOW to hear the latest from our PAGER scientists!
Thursday 28th October
14:45 Nowcasting and Predicting the Kp Index Using Historical Values and Real-Time Observations
Yuri Shprits, GFZ, Germany
15:30 Quick View: Passing the Alfvèn layer via chorus acceleration
Hayley Allison, GFZ, Germany
15:30 Quick View: Unusual behavior of the ultra-relativistic electron radiation belts revealed by Van Allen Probes observations
Yuri Shprits, GFZ, Germany
17:00 A machine learning model of the plasmasphere using only Kp and solar wind features
Stefano Bianco, GFZ, Germany
Friday 29th October
09:30 Real-time predictions and comparison with 87 year reconstruction of the radiation belt fluxes
Yuri Shprits, GFZ, Germany
Forecast of the Plasmasphere
Our three-day-ahead forecast of the plasma density in the plasmasphere provided with a 1-hour cadency is here! It is performed via a neural network, which takes the time history of the solar wind and the Kp index as input, combining the data sources present in PAGER with a hierarchy determined by their level of accuracy! Check it out on our Data Products page!
New study finds that electrons can reach ultra-relativistic energies for very special conditions in the magnetosphere when space is devoid of plasma
Dr. Hayley Allison, Prof. Dr. Yuri Shprits, Dr. Irina Zhelavskaya, Dr. Dedong Wang, Artem Smirnov
Simultaneous observations of plasma waves allow for the routine inference of total plasma number density, a parameter that is very difficult to measure directly. On the basis of long-term observations in 2015, this study shows that the underlying plasma density has a controlling effect over acceleration to ultrarelativistic energies, which occurs only when the plasma number density drops down to very low values (~10 cm–3). Such low density creates preferential conditions for local diffusive acceleration of electrons from hundreds of kilo–electron volts up to >7 MeV.
Read full article in Science Advances
Media coverage:
Giant particle accelerator in the sky
Electrons are locally heated to extremely high energies within the Van Allen Radiation Belts, new study finds
Dr. Hayley Allison and Prof. Dr. Yuri Shprits
This new study shows that electrons reach such incredible energies locally, in the heart of the belts, by taking all this energy from plasma waves. This process turns out to be extremely efficient. The unexpected discovery of how acceleration of particles to ultra-relativistic energies operates in the near-Earth space, may help scientists understand the fundamental processes of acceleration on the Sun, near outer planets, and even in the distant corners of the universe where space probes cannot reach.
Media coverage:
Kick-off meeting of the PAGER project
Potsdam (Germany), 21st - 24th January 2020